Fuller House, the Full House reunion series that you just had to have, premiered a mere nine months ago, and today, Netflix has released the trailer for the follow-up. That's right, Fuller House will be returning for another round of family-friendly high jinks on December 9.
All your favorites are returning: Stephanie, DJ, Kimmy, and Danny, sporting a new, funky midlife crisis. So if you've been missing the milkman, the paperboy, and/or the evening TV, Fuller House is back because, let's face it, you just had to have this.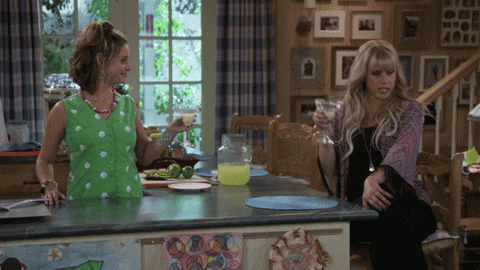 via GIPHY
Just in time for the holidays, Fuller House season two will drop all at once on December 9, so be sure to carve out some time in your busy holiday schedule to binge on what might be Netflix's most popular show. No, seriously, Fuller House season one brought in over 14-million viewers, which is more eyes on the screen than Game of Thrones or Walking Dead. Yup, an estimated 14.4 million people just had to have this thing, and because of that, we're all getting more.
Just goes to show you, most people just want some light situational comedy, not humans being hacked to death. Go figure.