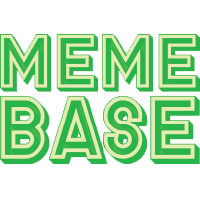 Memebase
Donald you ol' devil dog, you robe wielding hip Playboy wannabe.
This Hefner infused Donny J is the Trumpster that I'd love to get to know. Despite the whole 'deer in headlights' look on his face, every part of this photo screams 'laid back and ready to party'.
Like, he hasn't even bothered to hunt down a silk robe woven with gold and dyed with the blood of 3rd world children. This a regular old bathrobe that you could get at Bed Bath and beyond, there's nothing special about it at all. Your grandma probably wears the same exact one.
This is a Trump from a time when he didn't bathe in orange goo and hadn't experienced some heinous Bond-villain-level personal tragedy that made him want to conquer the entire world.
This is the Trump who was a strict centrist and hadn't yet felt the pangs to build a Great Wall of Texas as a monument to his existence on earth.

Hell, I'd probably shotgun a beer with this guy. So, here's to you, Donny. This Photoshop battle is in honor of your past self and that chill ass dude who you could have been.